Switchboard Upgrades in Melbourne - We Provide Electrical Switchboard Installation Services
Update your outdated switchboard today
Your switchboard is one of the most essential components of your electrical system – if it's faulty, the rest will surely follow.
Houses with older, outdated switchboards may experience frequent power tripping and be unable to use several electrical appliances at once without overloading the system. This can result in a dangerous electric shock, damaged wiring and appliances, or even an electrical fire in your building.
We specialise in switchboard upgrades, bringing older fuse boxes and outdated switchboards into the modern era. We take on both residential and commercial clients, ensuring that your electrical circuit and switchboard are suitable for your needs.
After a quick inspection, we'll be able to tell you whether your fuse board, circuit breakers, electrical wiring, and other components are up to scratch. Sometimes a simple repair is all that is needed, while other times you may need to replace the entire switchboard.
We issue a Certificate of Compliance Electrical Work with all our switchboard upgrades for your peace of mind and assurance. You can trust that we will be able to deliver the best switchboard upgrades at the best price every time.
Need a switchboard upgrade? Call 0411405783 to get your free quote from our experienced electricians today!
Electrical safety switches
Safety switches are essential for modern switchboards. Your electrical safety switch shuts down the power supply to prevent power leakage which could otherwise do severe damage if left unchecked. This lowers the risk of electrical accidents, electrical shock and improves the safety of a building.
Unfortunately, safety switches are rarely equipped in older fuse boards – chances are, if you live in an older home, you don't have one.
Do I need a switchboard upgrade?
There are a few signs you should start considering a switchboard upgrade:
You experience power outages regularly

Your electrical switchboard has no safety switch (common for older switchboards)

Your power is supplied through an older fuse box with porcelain fuses

You've bought new appliances that may be putting extra pressure on the main power supply

Your lights are flickering often

You're getting solar power for your home or building and need a suitable switchboard
It is always best to consult expert electricians, as we will be able to tell you exactly what needs to be done to bring your switchboard up to scratch. Trying to fix the switchboard yourself may result in a dangerous electrical shock, damage to the structure's electrical systems and circuits, or worse.
Not sure if you need a switchboard upgrade? Get in touch with our team today!
Emergency electrician Melbourne
If your switchboard upgrade is urgent, we can have a master electrician at your door today. We offer 24/7 emergency electrical services in Melbourne, ensuring you always have access to safe electricity in your home or commercial building.
Our electricians can identify any electrical fault in your system and repair it with ease. We'll be able to tell you if your issue is due to a faulty appliance or an older switchboard, which are highly prone to short circuits and overloads. As old switchboards can be the cause of so many electrical problems in the modern home, we'll install your new switchboard as soon as possible to protect you and those you care about.
When it comes to emergencies, you don't have time to wait. Our experts will be at your location ASAP to provide any switchboard upgrades and urgent electrical repairs you may need. We're known for our reliable service, which is why we're the go-to electricians for so many Melbourne residents.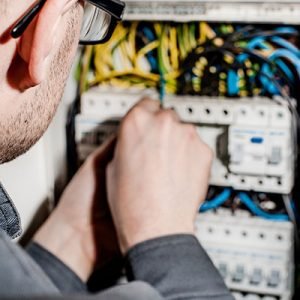 If you're looking for the best work and price, you can't go wrong with our switchboard upgrades. Call
0411405783
to speak to one of our electrical contractors or use our online contact form to get your free quote.

Custom security setup for commercial buildings and offices. Our installations involve systems such as sensor lights, CCTV, and much more.
Need an electrician urgently? We also offer 24/7 emergency electrical services. Call 0411405783 NOW