Smoke Alarm Service in Melbourne - We Do Smoke Detector Installation & Maintenance
Protect what you love
Having a working smoke alarm is essential for fire safety in any residential building. Whether you're a homeowner or tenant living in a rented property in Melbourne, our smoke alarm service is designed to give you confidence in your detectors. We aim to give all of our clients peace of mind knowing that their smoke alarms will perform in the event of a fire emergency.
We provide smoke alarm installation, maintenance, and testing for homeowners, property owners, tenants, and anyone else who requires our fire safety services in Melbourne.
Contact us today to get a free quote for our smoke alarm service or test in Melbourne!
Smoke alarms for property managers
As property managers and landlords, you are required to have working smoke alarms in any residential properties you own. Legally, you must have your detectors tested annually and/or between tenants. We make it simple to meet your fire safety obligations with our all-inclusive service.
Whether you need installation, testing, servicing, repairs, or something else, landlords can trust that all work will be in compliance with the Building Code of Australia. You and your tenants are in the best hands possible when you choose to go with Blackout Electrical Group.
Not sure of your fire safety obligations? Get in touch with our team – we'll be happy to advise.
Our smoke alarm services
Smoke alarm installation
We can install your new smoke alarm(s) and ensure that they are in compliance with Australian standards. For homes constructed after 1 August 1997, all smoke alarms must be connected to 240V mains power with a backup battery as a precaution. Any house/property constructed before this may have battery-powered smoke alarms instead of electrical.
Most fire services recommend the use of photoelectric smoke alarms as they are more effective at detecting the presence of smoke, activate quicker than other types of alarm and are less likely to go off for false alarms, like excess smoke in the kitchen. We only use the best alarms available to ensure your safety in the event of a fire.
Smoke alarm testing
You should be testing your smoke alarm on a monthly basis to ensure that it is working as it should. You can do this yourself by pressing the test button.
Of course, there's only so much a manual test can tell you. While this is sufficient on a monthly basis, you'll also want to have an expert regularly examine your smoke detector to ensure that it meets smoke alarm safety guidelines and will perform in an emergency – especially if your smoke alarms are older. We suggest doing this on a six-month or yearly basis for the best results.
We can have an electrician from our team come out to your property to inspect and service your smoke detectors for your peace of mind. We offer a comprehensive range of test options, including testing decibel levels and using a controlled smoke test to see how your alarm will perform in the case of a fire.
Don't leave it too late – prioritise your safety and have your alarms tested today.
Annual maintenance
To ensure that your smoke detectors are working as they should, we offer a comprehensive annual test and maintenance service. This includes:
Changing smoke alarm batteries (older smoke alarms)

Manual smoke alarm testing

Cleaning smoke alarms, vacuuming any dust/debris

Sound pressure testing
All smoke alarms in Australia have a lifespan of 10 years, meaning you will have to replace your detectors after a decade. Most newer models will have an expiry date somewhere on the alarm – it is vital that you keep this in mind.
However, if you suspect that your smoke alarm is faulty, it is essential to have it replaced immediately. Our friendly team of electricians will be able to help you choose the best alarm for your needs and install it for the best results.
We can also replace your detectors with smoke alarms connected to the main power to lower the risk of faults. You can trust that with us, you will get great work at a great price.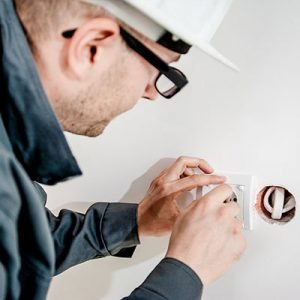 Looking for a Melbourne electrician to help with your smoke alarm installation, testing or maintenance? You can phone
0411405783
or get in touch online – we'll be happy to help with any smoke alarm service you require.

Custom security setup for commercial buildings and offices. Our installations involve systems such as sensor lights, CCTV, and much more.
Need an electrician urgently? We also offer 24/7 emergency electrical services. Call 0411405783 NOW