Electrician in Brighton - We Are Electrical Contractors & Provide 24/7 Domestic, Emergency & Commercial Services
Your trusted local electricians in Brighton
Electricity is essential in our everyday lives – you want to make sure you always have access. Whether you need help with new installations, general maintenance, or electrical emergencies, our expert electricians are the ones you should call.
Here at Blackout Electrical Group, we're committed to providing the high-quality service Brighton locals deserve. We're well-versed in all types of electrical services and will be able to help you keep your property running as it should. We've helped countless customers across Melbourne, servicing Brunswick and the surrounding suburbs, and know exactly how to deliver reliable results.
Want to see why we're the electrician Brighton residents trust to deliver great service every time? Simply call 0411405783 and one of our technicians will be happy to assist!
24/7 emergency services Brighton
Need electrical services now? Our licensed electricians can be at your Brunswick property ASAP with everything they need to diagnose and repair your electrical fault.

We've helped countless clients with power outages, flickering lights, faulty wiring, switchboard and safety switch upgrades, and any other electrical issue they may have on their hands. If you're in an emergency, you can trust us to provide the reliable service and efficient results you need.

We provide emergency electrical services for Brunswick residents, as well as commercial clients in need of an urgent response. Call us anytime, anywhere, and we'll be able to come to the rescue.
Electrical emergency? Don't wait around – contact our team of emergency electricians in Brunswick now!
Our electrical services
We offer a range of electrical services for our clients in Brighton and can install, repair and replace anything you need. Our customers come to us for:
Electrical appliance installation (air conditioning, fans, and more)
Lighting (new light fittings, upgrades and repairs)
Outdoor and garden lighting
Wiring and rewiring
Power points
Security lighting and alarm systems
Smoke alarm installation/maintenance
Switchboard upgrades and safety switches
Phone, TV and data points
Home entertainment systems
TV mounting
Antenna installation/repair
Electrical safety home inspections
Electrical maintenance services
New house electrical work Renovations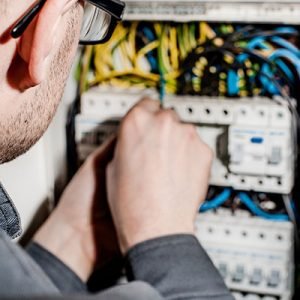 Why go with Blackout Electrical Group?
Fair pricing
With electrical work, you have no choice but to call an electrician. We ensure you have access to our quality services at a reasonable price. We can also offer discounts for pensioners in Brighton.
Fully licensed, insured and experienced electricians
When looking for Melbourne electrical contractors, you want to make to make sure that they are qualified for the job. Each electrician on our team is registered with Energy Safe Victoria and is covered by our insurance, meaning you can rest assured that we will deliver the best results. We offer a 5-year workmanship warranty on every job our team completes.
Friendly service
Our experts know the value of good customer service and we're here to make sure that each person who seeks our electrical services is 100% satisfied with our work. You can always count on a Blackout electrician to do a great job!
Residential electrician Brighton
A modern residential property is entirely dependant on electrical systems – if something doesn't work as it should, it can spell a headache for you. Our experienced electrical contractors will be able to provide a great service in a timely manner, ensuring you can quickly get back to spending time with family and doing what you love.
We can install lighting, appliances, security and safety essentials, powerpoints, phone/TV/data points, new switchboards and wiring – anything you need for your home to fully function. Apart from professional installation, our electrical contractors will make sure that your systems are safe and that any issues are diagnosed and repaired as quickly as possible. With our full suite of affordable electrical services, you can trust that you are in the best hands.
Never attempt to DIY
Electricity can be dangerous. Only licensed electricians should perform electrical installations, repairs, and maintenance in your home.
It is illegal and reckless to do any DIY electrical work in Melbourne: not only is there greater risk if the work is done incorrectly, putting any inhabitants in danger, but you may experience a harmful electric shock (or worse). No matter how small the job, make sure you get in touch with our experienced electrical contractors – we'll be happy to advise you on the best way forward.
Commercial electrician Brighton
We help a range of commercial clients in Brighton with their electrical services, including business owners, organisations, property owners, and more. We know the importance of efficient service and are here to make sure that you receive fast, high-quality electrical work at the right price.


We cover all your bases – everything from routine electrical testing to emergency repair work. A professional Blackout electrician will be able to assist with any work you require and is familiar with the requirements of business owners and other commercial clients, allowing us to meet your unique needs.


To find out more about our team of commercial electrical contractors in Brighton, feel free to get in contact with us today. We'll be happy to answer any questions you may have.
Looking for efficient, professional service? Our Melbourne electricians come highly recommended and will be able to help you with all of your electrical needs. You can trust that with a Blackout electrician, you will receive high quality work and excellent service.


Call 0411405783 to speak with a licensed electrician in Brighton now or use our online contact form and tell us more about your job.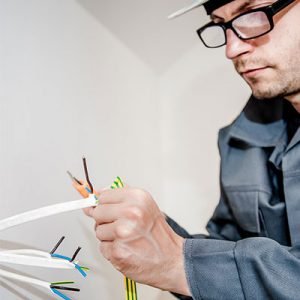 When it comes to commercial electrical emergencies, you tend to get worried and even panic in some situations. What if we tell you that all such worries can take the back seat? This is where we offer several commercial services in Melbourne and surrounding suburbs like Brighton. If you are thinking about changing your office space or other commercial business, our electrician in Brighton can help.
Whatever the problem may be, our commercial electricians can solve it promptly and at a reasonable cost. We also have served the suburb for a long time, and when you book our team for any electrical job, you can rest assured that our experienced team of electricians will show up on time, solve your problem and be professional according to the current building codes. So, what's holding you? Give us a call today!
Commercial Electricians in Brighton
Whatever commercial electrical services you require, our team of electricians can help. Some of our commercial services comprise:
Specialty receptacles
Single-phase and 3 phase circuits
Twist lock receptacles
Motor control
Outdoor and parking lot lighting
Machinery control repair
High-voltage wiring
Interior and exterior lighting upgrades
Machine wiring and regular maintenance
Equipment upgrades
Lookup and repair
Compressors
Closed caption surveillance systems
Data
Cable wiring
Phone
Billboard lighting
Recessed fluorescent lighting
Warehouse
USB wall outlets
HDMI ports
ID and fluorescent lighting
Wireless dimmer switches for your light
Cat 6 ethernet ports
Preventive maintenance
Whatever commercial service needs are, trust our team to get the work done as soon as possible.
Commercial Electricians At Your Service!
Safety is one of the major concerns for every commercial property. If you are concerned about electrical hazards amid the property, then do not hesitate to contact us at the earliest. Our commercial electrician in Brighton is always ready to work and deliver. Plus, our service vans are always stocked to repair and fix whatever the problem is. So, don't risk the safety of your establishment a minute longer. If you are concerned about the property's security or you want to upgrade the entire electrical system to handle a more comprehensive power, give our electrician in Brighton a call.
Commercial Electrical Wiring
If you are concerned about the outdated wiring amid the building or you need wiring installed for new projects, our commercial electrical wiring solutions are right here for you. We provide you with a full range of commercial services, and with decades of experience, Blackout Electrical Group can help with whatever you require. So, do not hesitate to get in touch with us and learn more about all of our Brighton commercial services.
Get In Touch!
If your commercial appliances are behaving strangely or you are having issues with flickering lights, look nowhere else. Our experienced electricians can assist. We are a team of experts at commercial electrical troubleshooting and can repair and fix the problem without further ado or hassle. This simply implies that you can get back to your work functioning the way you were and how you wish it to. So, give us a call, and one of our commercial electricians in Brighton will help eliminate your electrical problems as soon as possible.
Suburbs We Regularly Service